An Inside Look
The Blue Ribbon Experience
Blue Ribbon Corp was acquired in November of 2005, by GP:50 NY Ltd. and continued to operate from our Florida office until March of 2009, when the decision was made to house both companies at the GP:50 facility located in Grand Island, NY. It was not the best time to make such a move as far as businesses were concerned. The economy was in a significant slump during 2009/2010 and many companies were cutting back and laying people off.
Read More
We deemed it more economically feasible to have both companies housed in a single facility rather than maintain two separate buildings in separate parts of the country, and so made the move to the Buffalo area, and successfully rode out the economic slump.
Since that time, we've experienced substantial growth through both market and product line expansion with markets including ground water, waste water, and general purpose applications, with our gauges serving these as well as industrial, oil and gas, process, fluid power and other markets. The last few years have seen a 5-10% growth with continued market penetration into Oil & Gas, HVAC, and OEM sales. Our geographical growth has significantly increased to both a nationwide and global reach, so that we now cover all 50 states as well as Mexico, Canada, Central and South America, the Middle East, Southeast Asia, and even Australia. Through continued market and product penetration, we expect to double in size over the next 4-5 years.
In conjunction with the quality and dependability of our products, our Blue Ribbon's sales and service team has earned us the respect and loyalty of our customers. They know that, not only are we here for them, but that we stand behind our products with the high quality, competitive pricing, and customer service they expect as part of the Blue Ribbon Experience we provide. We invite you to take part in the Blue Ribbon Experience  and see for yourself what Blue Ribbon products, sales and service can do for you.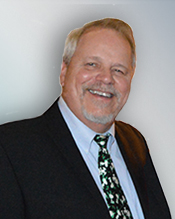 A Beautiful Challenge
For me, it was a beautiful challenge. To have come from being a regional manager for one company, to become a national sales manager of Blue Ribbon Corp, originally only a local Florida company – and now we're an international company. It's been 10 years and it feels like it happened overnight.
Read More
Altogether, I've been in this line of business for more than 25 years, and over the course of my life have developed a philosophy to which I attribute my growing success. It didn't come from books, or listening to high-pressure motivational speakers.
The development of my work/life philosophy began during my formative years. My parents owned a corner restaurant in Buffalo, NY, and Dad and Mom ran the business themselves. My dad always taught me that personal relationships are very, very important. I learned from him that you have to be able to trust people, work with people, and listen to people. My father sold products which people could buy anywhere, but they wanted to buy from him, because of the relationship he had established. I've brought that same perspective into my own life. Certainly customers in my field can buy gauges and thermometers anywhere – I learned from my dad, I have to sell "Me" – so customers will say, "I want to buy that from Jim." I call it, "Relationship Selling."
In relationship selling, a sale is more than just telling about the "Features, Advantages and Benefits" of a product to gain the sale. It's an opportunity to answer someone's need or solve a problem. Your most important sense used during a sales call is the ability to listen. Listen to what a customer is saying. Listen for their needs or the problems they're having and rationalize with them how your product can help. If you are really listening and not talking, caring about the person while being passionate about your product, you not only significantly increase your chance of getting the sale, but you enter into the opportunity of a relationship that is mutually beneficial and much, much larger than the product itself. Listening, caring, passion. These are key. Many of my customers who have bought my products over the years are people whom I consider my friends and not just my customers. I get the feeling that many feel the same way about me.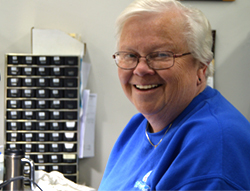 Dedication to Quality
Years ago, I worked as a cook in two different restaurants. I was with one for 10 years and then another, the Georgian House in Niagara Falls, for 15. If the Georgian House hadn't burnt down, I'd probably still be there.
Read More
Being that I needed a job and this company was close to my home, I walked in the front door one day and asked, "Are you accepting applications?" They said, "Yes," and two days later I had an interview and shortly after was hired. I started here when I was 45 and have been here for 20 years now. I've been doing the actual making of Blue Ribbon products for at least half of that time.
I make the Blue Ribbon transmitter products. I do all the Birdcages® – anything on the shelf, really. The 211's, the 311's. My work is primarily on the industrial end. I started out building cans, which is entry level here. When they needed someone to do calibration, I volunteered. I've learned every step of the process so that today, I build the entire units from scratch, from building the can right through to calibration.
Blue Ribbon is a friendly place. And considering it's a smaller company, I think the benefits are great. They're very flexible so employees are able to enjoy a good work/home life balance. It's exactly one mile from my home, so it's really convenient for me.
I like my job. I've always liked working with my hands, so this has been a really good fit for me. It's definitely high paced. I like a challenge like that, otherwise I wouldn't have done it for 20 years!
~ End ~