Apr 2023

Blue Ribbon Corp to Showcase Quality Gauges and Sensors at OTC 2023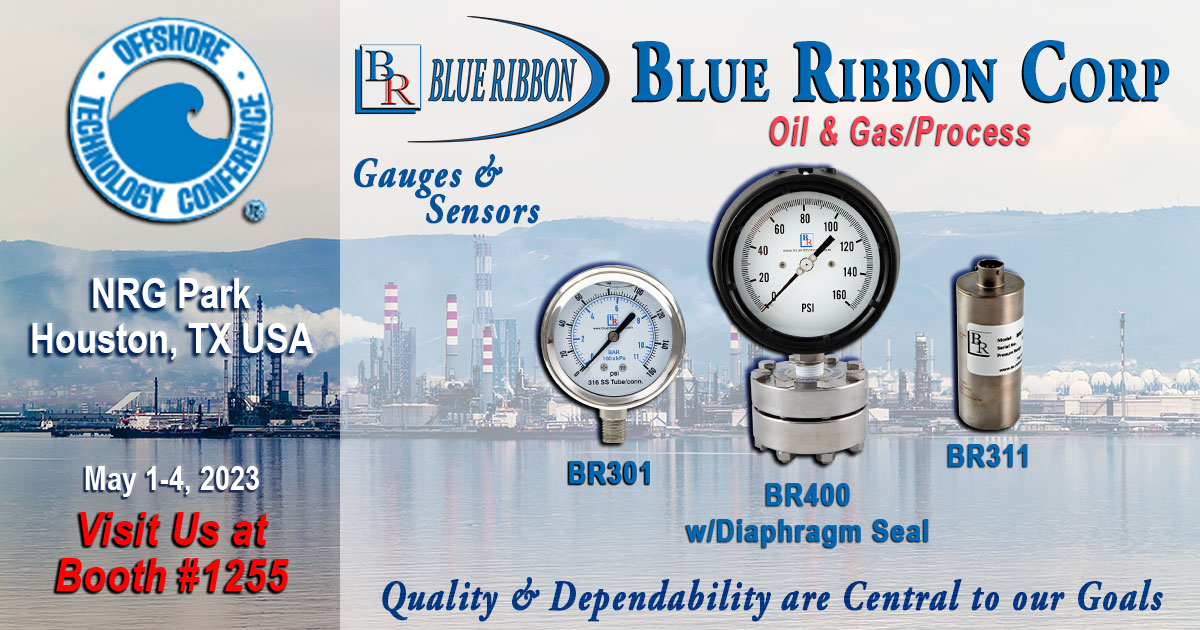 Models BR300 Series Gauge, BR400 Series Gauge, and BR311 Sensor on Display
GRAND ISLAND, New York (April 24, 2023)
By C. Schwab – 
Blue Ribbon Corp, a direct manufacturer of gauges and thermometers, providing high volumes of quality products at low cost, satisfying the needs of OEMs worldwide, is proud to announce its participation in the Offshore Technology Conference (OTC) 2023. The event will take place from May 1-4 at the NRG Center in Houston, TX.
OTC is an annual event that brings together professionals and companies from the energy sector to exchange ideas, share knowledge, and showcase the latest technological advancements. This year, Blue Ribbon Corp will be among the featured exhibitors, and will be showcasing its models BR300 series, BR400 series, and BR311 sensor to represent Blue Ribbon Corp's commitment to quality and dependability.
The BR300 series is a high-quality dry or liquid-filled, all stainless steel back or bottom mount gauge for applications where brass may not be an option. Available dry or liquid filled in 2 ½" and 4" dial sizes with ¼"(M) NPT as well as 4" and 6" dial sizes with ½"(M) NPT. With a range of 30/0" VAC through 0/15,000 and accuracy for 2 ½" dial – 1.6%; (ASME B40.1, Grade A) and 4" and 6" Dials – 1% (ASME B40.1, Grade 1A), it is suitable for use in harsh environments and offers excellent quality and dependability.
The model BR400 series is a highly rugged stainless steel and brass process pressure gauge. It comes in a 4 ½" dial size with a working pressure of 75% FSO and over pressure of 20% up to 10K PSI. It features an AISI 316 stainless steel Bourdon tube and socket, Phenolic-Solid front/blow-out back case, and shatterproof safety glass with ¼" or ½" NPT Male connection sizes in back or bottom mount. These gauges come dry, or liquid filled and are designed to provide reliable process pressure measurements within safety critical environments such as oil and gas, chemical processing, power stations, environmental engineering, and plant construction environments.
The Model BR311 is a family of industrial grade pressure transducers with available ranges from 0-30" WC through 0-15K PSI. These strain gauge-based sensors are expressly designed to withstand the shock, vibration, and pressure spikes common to most hydraulic and pneumatic control systems.  The highly rugged, all-welded stainless steel design offers high corrosion resistance, making these sensors an ideal choice for demanding oil and gas, steelworks, rolling mills, and process control applications.
"Blue Ribbon Corp is excited to participate in OTC 2023 and showcase our BR301, BR400, and BR311 models," said Jim Snyder, National Sales Manager for the Mid-West/South. "We are committed to providing our customers with the highest-quality products that meet their specific needs, and we look forward to demonstrating our expertise and capabilities at the event."
Visitors to the Blue Ribbon Corp booth #1255 will have the opportunity to learn more about the company's products, meet with its technical experts, and discuss their application needs. Blue Ribbon Corp encourages attendees to visit its booth to see its products and experience the quality and dependability and excellence in customer service that sets Blue Ribbon Corp apart from its competitors.
For more information about Blue Ribbon Corp and its products, please visit Booth #1255 at the OTC Conference 2023. You can also contact Blue Ribbon Corp toll-free at 1(877) 774-4751 (outside of US: +1(716) 773-9300) or via email.